Our Expertise Includes:
Natural Gas Pipelines, Oil/Petroleum Product Lines,
Plant and Station Piping
With over 60 years experience in the Oil and Gas industry, no matter how large or complex, our hands-on management team provides the highest quality in the industry. With decades of experience and skilled union craft employees, we will complete your projects safely, within budget and meeting your most rigorous schedules. Doty Bros. can provide 24 Hour Emergency Response. Public and private utilities like SoCal Gas, Shell Oil Company, Kinder Morgan, Chevron, AES, Crimson, Granite, NRG, CRC, Phillips 66, Southern California Edison, Worley Parson and SDG&E rely on Doty Bros. to ensure their customers have the best service possible. 
Our Oil & Gas – Transmission & Distribution Services Include:
Gas Distribution, Transmission Replacement & Installation

Pipeline Inspection

Pipeline Coating

Pipeline Pigging

Pipeline Hydro Testing

Cathodic Protection

Shop Pipe Fabrication

Plant & Station Piping with all Earthwork & Pipe Fabrication

Civil Work – Structural Supports, Foundations & Paving

Relocation or Repair of Oil/Petroleum Product Lines

High Sensitivity to Environmental Concerns
HYDROSTATIC PUMP TRAILER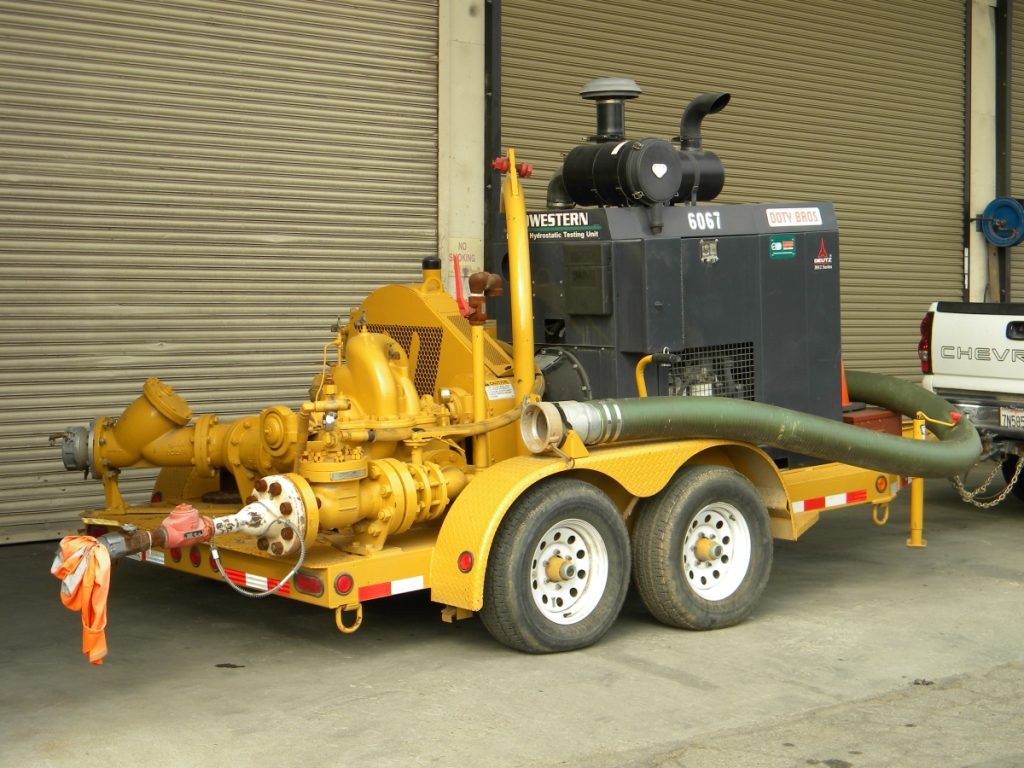 DIESEL DRIVEN DUAL PUMP CAPABILITIES
LOW PRESSURE CENTRIFUGAL PUMP
* 1200 G.P.M. AT 110 P.S.I. = 1,714 B.P.H.
HIGH PRESSURE TRI-PLEX PUMP
* 600 G.P.M. TO MAXIMUM 3,200 P.S.I. = 857 B.P.H.
Services:
Full service Hydro test crews with owned equipment
Full service crews for Pre and Post Hydro test
Pipe fabrication and installation, install blinds, pigging, flushing, dewatering
Third Party Witness Services
State Fire Marshall approved List
DOT approved service provider
DOG approved service provider
Full service General Engineering contractor services available
Safety / Training:
Full in house safety training for employees, subcontractors/service providers and clients
All employees are DOT Op/Qual trained and certified
Safety training for competent person, confined space, CPR, Smith driving, shoring, heat illnes, OSHA 10/30, behavior based safety and process safety management
KPI Program